Would you like to secure the supply to your facility even when the main power grid goes down? COMBI-MAX is your team. Toscano has developed a surge protector that evolves from the COMBI-PRO, maintaining its main features but adding the automation that will allow you to have continuity of supply in your photovoltaic installation even with a drop in the main grid.
COMBI-MAX makes your photovoltaic installation more profitable and efficient
Until now, even with an operational photovoltaic installation, in the event of a power outage, our installation lost the capacity to provide energy.
But thanks to COMBI-MAX we will no longer suffer power outages when the main power grid goes down. Your photovoltaic installation will be more efficient, profitable and autonomous. Whether for domestic self-consumption installations or industrial photovoltaic installations, COMBI-MAX is indispensable if you do not want to have power outages.
How does COMBI-MAX work?
COMBI-MAX will detect a drop or failure in the main power grid and automatically disconnects our installation from the main grid and sends the order to the inverter to activate the Total Backup or Critical Load Backup configurations, being our solar panels the ones that now supply 100% of the energy of our installation.
Total Backup: Our photovoltaic installation is disconnected from the main grid for the duration of the outage, but supplies energy to our entire installation.
Backup Critical Load: In this configuration we remain autonomous from the main power grid for the duration of the incident, but our solar panels only power the equipment selected as critical load.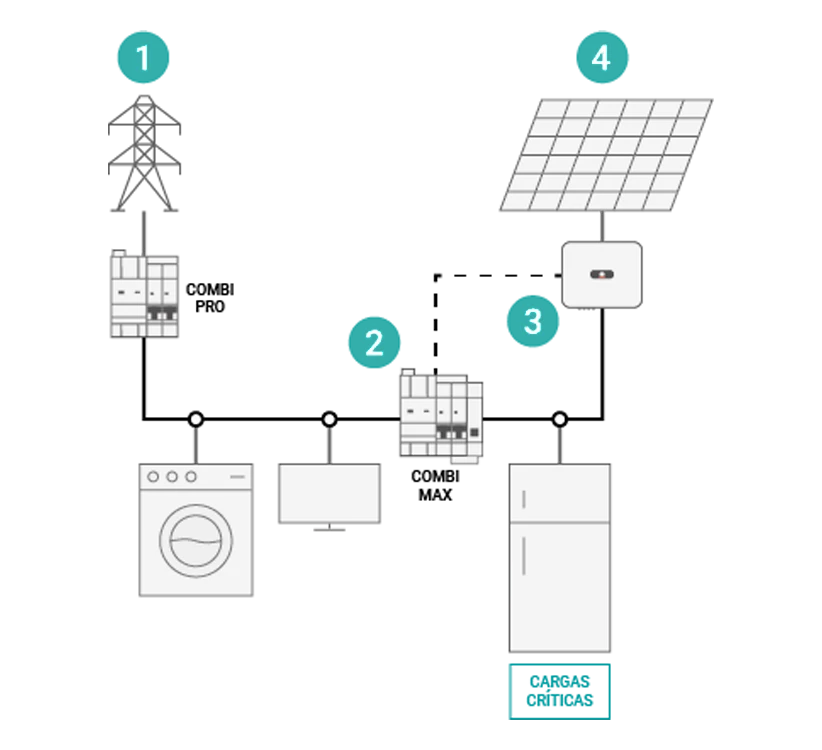 COMBI-MAX is constantly measuring the response of the power grid so that as soon as the outage is resolved, it automatically reconnects our installation to the power supply.
More information here
Uninterruptible power supply in your self-consumption system
As long as your photovoltaic installation is supplying energy, thanks to COMBI-MAX your entire installation will have uninterrupted supply even if the main grid is down.
You will no longer depend on the stability of the power supply to which your installation is connected, because in case of a power failure, your installation will be 100% autonomous with your solar panels and COMBI-MAX.
What are you waiting for to optimize your self-consumption installation and make it more profitable and efficient?
Want to see COMBI-MAX at work?
From February 21 to 23 we will be at GENERA2023 and you will be able to see COMBI-MAX in operation. Come and see us and you will have all the information you need and you will have demonstrations of the benefits you can get by installing COMBI-MAX in your photovoltaic installation.
Request your code to enter GENERA2023 for FREE here > I want my code